When One Garage isn't Enough: Extra Storage Space
I have a neighbor named Joe. Joe is a nice guy, who has a nice family, and a nice house with a one car garage. The problem is that Joe has a car, his wife has a car, his teenage daughter has a car, and he has his toys – a motorcycle and a WaveRunner. His usual spring ritual is to open his garage, and reorganize the clutter that has accumulated over the winter,  just enough to fit his wife's car in the garage. He then goes to the side of his house, where his toys have been in a makeshift outdoor storage space all winter, and begins the process of removing the tarps, bungee cords and canvas covers. You might say to yourself, why doesn't Joe just build a storage shed?  Surprise! – Joe has a storage shed, but it's filled with tools, yard equipment and bicycles – like I said, Joe has a problem … but this year I noticed something different.
Yes, Joe still cleaned out his garage enough for his wife's car, and he still has both his and his daughter's cars in the driveway, but his motorcycle and Waverunner seemed to have disappeared.  So, being the nosy neighbor that I am, I walked over and inquired, you know, just to make sure that nobody stole his toys. What he told me made a lot of sense.  What Joe realized, as he uncovered his toys, was that he was beginning to see signs of the weather affecting, and possibly damaging his motorcycle and WaveRunner. " I realized that I was storing $20,000 worth of vehicles, and protecting them with $100 worth of plastic and canvas. At this rate they weren't going to last another 10 years". Joe's solution?….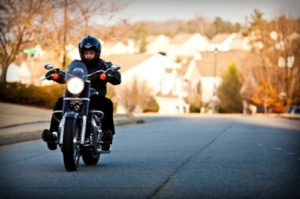 Joe lives about 2 miles from a very nice, family-owned self-storage facility.  There he was able to rent an indoor storage space just large enough for both his motorcycle, and WaveRunner, at  a very reasonable price. His $20,000  toys are now protected from the weather, and kept in a secure, convenient location. Gone is the unsightly bundle of canvas attached to the side of his house. Now when Joe wants to go for a ride through the country, or spend the day jumping waves on the bay, he just heads down to his storage space, hitches up the trailer, or hops on the bike,  and heads out . Just keep your phone off Joe – your wife might want her bike out of the shed!