Self Storage through the Ages
Where did self-storage come from? Historians say that the concept came about in ancient China. Legend has it that people in that era would store their valuable items in clay pots, kept in guarded underground pits to protect them from Invaders.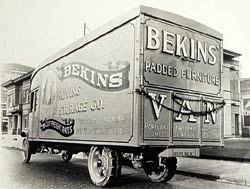 Modern Self Storage has its roots in the moving and storage industry of the 1950's. After World War II, Bekins Moving & Storage of Omaha Nebraska built a network of large fireproof warehouses throughout Southern California. They found that they could rent these areas not only  to civilians and military personnel in transition, but also for storing business records, records management, film storage, and office and industrial moving.- and so it began…

The first successful commercial self storage facility was built in Odessa Texas in the early 1960s. The "A-1 U-Store-It U-Lock-It U-Carry-the-Key" facility was built in an industrial area where fishermen could rent storage space for their boats and oil field workers could store equipment for quick access. Eventually the general public caught wind of this idea and by the early 1970s, the first public self storage facilities began to open – the first popping up in El Cajon, California.

What a difference 40 or 50 years can make! There are now nearly 60,000 self-storage facilities across the United States, with enough space available for every man, woman, and child  in the country to stand comfortably within the walls of self-storage

Where will the self-storage industry go from here? Who knows, but one thing is for sure –  Americans are accumulating more stuff, not less!