Military Families on the Move
Moving is part of everyday life for military personnel. Soldiers and their families may be asked to relocate every 2 to 4 years. These moves often take place with short notice, requiring quick planning.
Military personnel who are about to deploy have a lot of choices to make regarding what items to take with them, and what to place into storage. A self storage unit can be a great option, not only for furniture, electronics, and appliances, but also storing a vehicle such as cars, trucks, motorcycles, and boats. Your local self storage facility will likely offer military self storage discounts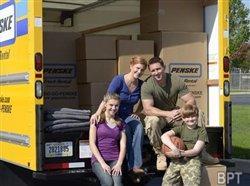 for storage units as well as packing supplies, and possibly even the free use of a moving truck or moving van like we offer at The Storage Inn of Egg Harbor Township, NJ , and The Storage Inn II of Ocean City NJ. Most military bases have self storage facilities located near to them that offer secure gated storage – some even have resident security managers and climate controlled storage units. Many storage facilities also offer your choice of affordable indoor or outdoor space for vehicle storage.
Surface Deployment and Distribution Command are part of relocation departments designed to help military families with their moves. These departments also offer moving check lists like the one below.
Moving Tips for Military Families
Military families are expert movers! Here are some tips for moving with the military that should help make the moving process as smooth as possible!
1. Have a playbook with the moving orders, important dates and other documentation. Create a detailed list of everything that is to be moved.
2. Begin "decluttering" as soon as possible. Sort through items and designate them as sell, donate, or store – having less items to pack and move helps reduce stress on moving day
3. Have family and friends help with cleaning the old home when it is empty. It is also recommended to pre-clean the bathroom and kitchen in your new home.
4. Pack a "Go" bag for the first day at your new home with items such as sheets, towels, shower curtains and soap.
Military families may not be able to control what goes where on their moving trucks, making it difficult to find items like laundry soap, brooms, mops, and household cleaners until the truck is completely unpacked. Quick and efficient planning is the key, but then, being quick and efficient is probably second nature to most military family members!
If you're a member of a military family, The folks at The Storage Inn would love to help. Stop in and see us, and Thank You for your service! Happy Veterans Day!