Time to Spring Forward!
March has come in like a lion here at The Storage Inn in Egg Harbor Township New Jersey, but that hasn't stopped our storage unit rental customers from buzzing about as they rearrange their storage units for spring use. I noticed, as I flipped our storage space rental office calendar over to the month of March, that Daylight Savings Time begins this month.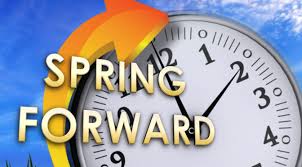 "Spring Forward" I thought to myself – ugh! – One less hour of sleep on Saturday night. Oh well, at least it means that spring is on the way, and we will have more light during the evening hours. This all made me wonder where Daylight Savings Time came from, and how long we've been tinkering with the universe's internal clock!
What Is Daylight Saving Time?
DST is a seasonal time change where clocks are set ahead of standard time by 1 hour. As a result, the Sun rises and sets later than the day before. Daylight Saving Time (DST) is used to save energy and make better use of daylight.
Oh Canada!
It was first used in 1908 in Canada where on July 1, 1908, the residents of Port Arthur, Ontario turned their clocks forward by 1 hour to start the world's first DST period.
Other locations in Canada soon followed suit. On April 23, 1914, Regina in Saskatchewan implemented DST. The cities of Winnipeg and Brandon in Manitoba did so on April 24, 1916. Daylight Saving Time in Regina proved so popular that laws were passed to bring DST into effect automatically.

DST Spreads to Europe
Daylight Saving Time did not catch on globally until Germany introduced it in 1916. Two years into World War I, clocks in the German Empire, and its ally Austria, were turned ahead by 1 hour in an effort to minimize the use of artificial lighting, and save fuel for the war effort. Within a few weeks, the United Kingdom, France, and many other countries followed suit.
Who Invented DST?
If you like Daylight Saving Time, you can thank New Zealand scientist George Vernon Hudson and British builder
William Willett. In 1895, Hudson presented a paper to the Wellington Philosophical Society, proposing a 2-hour shift forward in October and a 2-hour shift back in March. There was interest in the idea, but it was never followed through.

Then in 1905, British builder William Willett suggested setting the clocks ahead 20 minutes on each of the four Sundays in April, and switching them back by the same amount on each of the 4 Sundays in September, a total of 8 time switches per year. Willett's Daylight Saving plan was introduced in a bill to the House of Commons in February 1908, however, the idea was opposed by many, especially farmers. Willett died in 1915, the year before the United Kingdom passed the bill into law.

DST in the USA
Daylight Saving Time  was not formally adopted in the U.S. until 1918. "An Act to preserve daylight and provide standard time for the United States" was enacted on March 19, 1918. The new bill established standard time zones and set summer DST to begin on March 31, 1918.
Daylight Saving Time is now used in over 70 countries
worldwide and affects over 1 billion people every year.
Here at The Storage Inn, the onset of Daylight Saving Time brings with it storage customers, old and new, packing away the winter items, and pulling out their lawn chairs, barbecue grills, and bicycles from their storage units. Yep – Warm weather and late sunsets are almost here – Don't forget to "Spring Forward" !