Time to
Deck the Halls!
The holiday season is upon us, and that can mean only one thing here at The Storage Inn in Egg Harbor Township New Jersey – Time to dig out the boxes of holiday decorations and begin turning our self storage rental office into a holiday wonderland!  We do it every year. Whether at home or work – we put up the tree, hang the lights, and pull out the Christmas knick-knacks, along with the tinsel, gingerbread men, reindeer, Christmas bells ,and what seems to be a never-ending assortment of Christmas tree ornaments. We all love them, but what do they mean, and where did they come from? Here is the history behind a few of our favorites…
Christmas Trees:
The green fir tree was originally used in various European countries to celebrate winter. Branches of the fir tree were used to decorate their homes during the winter solstice, as it was said to make them think of spring being around the corner. Romans used fir trees to decorate their temples at the festival of Saturnalia and Christians began using the tree as a sign of everlasting life with God.

Nobody knows when the first Christmas appeared, but the general consensus is that it began about 1000 years ago in Northern Europe, where they were hung upside down from the ceiling using chains (hung from chandeliers or lighting hooks).
In parts of Northern Europe Fir trees would be re-planted into pots in the hope they'd flower at Christmas time. The poor man's Christmas tree was a pyramid of wood, which was decorated to look like a tree with paper, apples and candles.

Tinsel:
Tinsel originated in Germany in the early 1600s – back then it was shredded silver. Real silver.

Tinsel makers of the day would hammer the silver until it was thin, then cut it into strips. It was so popular that eventually machines began making the stuff to keep up with demand.There was just one problem – the smoke from Christmas candles caused the tinsel to turn black, so they began making it with tin and lead. That version proved to be too heavy for a Christmas tree, so the Brits took over and came up with the light silver sparkly tinsel we enjoy today.
Baubles / Tree Ornaments
Once again the Germans stepped up in the decoration invention department. Baubles were invented by Hans Greiner, a local, who first manufactured them in the late 1840s. The first baubles were fruit and nut shaped glass, eventually turning into a more spherical shape that we know as Christmas balls. Britain's Queen Victoria was said to be quite taken with the tradition of baubles and brought them from Germany to Europe in the mid to late 1800s.
American retailer F.W. Woolworth made his fortune by importing baubles into the country in 1880. By 1890, he was reportedly selling $25 million worth a year.

At first, baubles were only for wealthy people as they were hand-crafted and made of glass. But it wasn't long before a plastic version was made, allowing cheaper manufacturing and affordability for everyone.
Fun Fact – In Britain it is bad luck to keep your Christmas decorations up after the 12th day of Christmas, on the 5th of January.
Christmas lights:
In Victorian times, the tree would have been decorated with candles to represent stars. In many parts of Europe, candles are still used, but insurance companies in the U.S. tried to get a law passed so that candles would be banned from use on Christmas trees because of the many fires they'd caused. In 1895, an American man, Ralph Morris, concerned about the fire hazard of candles and Christmas trees, invented the first electric Christmas lights, which are similar to the ones in use today.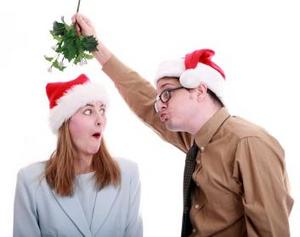 Mistletoe
Another popular decoration for the home is branches of holly and mistletoe. Their bright red holly berries, made a sweet contrast to the white mistletoe. The two were woven together to make Holy Boughs, which were blessed by the local priest, before being hung by the front door.
Any visitors would be embraced under the bough as a sign of goodwill. As for the 'kissing under the mistletoe' tradition, it originated in Britain where the original custom was that a berry was picked from the sprig of the Mistletoe before the person could be kissed. Then, when all the berries were gone. – No more kissing!
Well, that was fun! Meanwhile, back in the office, I see that quite a few of our customer's are retrieving holiday decorations from their storage units, I even saw one of our rental tenants with a Santa Suit – Hmmm… Don't know if he's the real Santa, but if he is, I have been very good this year, and I've always wanted a Corvette. Happy Holidays!