The Heat is on!
Its mid June and the temperatures at The Storage Inn in Egg Harbor Township New Jersey, and The Storage Inn of Ocean City are starting to soar! The heat and humidity, however, does not seem to deter our customers from shuttling in and out as they rearrange and retrieve items from their storage spaces.
As a courtesy to our self storage customers, we keep a refrigerator stocked with cold water to help them stay cool. Working in high heat and humidity can be dangerous, especially for our senior tenants, so each year we offer a few extra tips on avoiding heat-related problems while working outdoors.  
Here are this year's tips…
1. GRUNT WORK FIRST
Minimize your own energy loss by doing the heavy lifting early, so you can spend the hot hours in the shade, slowly patting yourself on the back.
2. BUCKET COMFORT STATION
Put an empty bucket in the shade and fill it with icy water to keep your drinks cool, your washcloths wet and your cold packs charged, or to give yourself a reason to kick off the work boots for an invigorating foot-bath. Just don't drink out of it!
3. GET MISTY
Using the garden hose to give yourself a spritz to the back of the head on the "mist" setting gives a relieving rinse, while a little jet action to bare feet cools you off and freshens you up. The more settings you have, the more satisfying the shower.
4. SAVE THE ALCOHOL FOR LATER
Alcohol is a diuretic, which dehydrates you by causing the body to lose more water than it absorbs. Save it for the shade!
5. SHIELD YOUR SKIN
Wear loose-fitting, lightweight, porous clothing. Choose heat-reflecting light-colored fabrics rather than absorbent dark ones, using long sleeves and pants to shade your skin, absorb sweat and reduce your surface temperature.
6. COOL TRICKS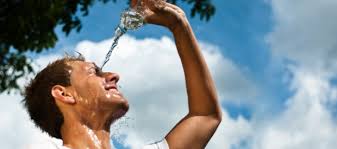 Squeeze ice wrapped in wet washcloths behind your knees, on your wrists, in your armpits or on any major arterial lines. In the South, Little League team moms keep cloths in coolers for kids to wring around their necks between innings. In the yard, you can get creative. Chinese medicine cites the wrists as key to clearing the body's heat.
7. KEEP A COOL HEAD
"Approximately 20 percent of your blood supply flows to your face," says Walter Herman, M.D., a retired cardiologist from Philadelphia's Jefferson Hospital. So you can lower the heat to the rest of your body if you just keep a cool head. If you can't move your work to the shade, create your own with a broad-brimmed, light-colored hat. A bandana soaked in the ice bucket, or a sombrero left over from Cinco de Mayo would also do the trick.
8. EASY BREEZY
Use a work fan or a garage fan to keep the air moving over you. Fans create wind chill (a term more often used on frigid days). In this case, the sensation of coolness comes from sweat evaporating from your skin more quickly than in still air. You may also fan yourself with any of the hats from tip #7.
9. COOL VEST!
For working in severe heat, you may want to consider a cooling vest. The Cool Vest costs about $130 to $200 and uses chemical cold packs that are inserted into pockets in the vest. After a few hours of exposure, drop them in the ice bucket for a recharge.
10. DRINK HEAVILY
Last on the list, but first in importance: Stay hydrated.
The US Army Field Manual warns that you can't use your own sense of thirst as a guide. Thirst occurs late in the dehydration process, in many cases hours after you've become dehydrated. If you don't feel the need to urinate hourly, and if your urine has turned from a healthy lemonade color to a jaundiced maize, you're probably already dehydrated. Stop working and take a swig of water, sipping frequently in small amounts rather than the occasional guzzle.
Add a little lemon, mint or cucumber to a cool glass of water for hydration with a twist. Or munch on watermelon, which is 92 percent water, according to the National Watermelon Promotion Board.
As for all that beer you've been keeping cold? Pop one open after a cool shower and dinner.
There you have it folks! Plenty of great tips on staying cool for the summer.